Kilmarnock Standard, Friday, Jan 15th 2010
Sunshine on Loaf - The Return of Pete!
(by Ian Russell)
FIRED-UP and slimmed-down Peat Loaf main man Pete Rossi is swapping Benidorm for Burns Country for a couple of comeback gigs that will surely satisfy his show-starved fans.
Pete said farewell to his beloved Scotland four years ago to sample the Spanish sun-shine, much to the delight of expats and locals on the Costa Blanca.
But there comes a time when every man has to return to his roots - and get back in front of Ayrshire audiences again. Stones lighter Pete is doing just that with a couple of eagerly anticipated gigs later this month.
He's pulling the Peat Loaf ensemble back together for the shows at Mauchline and District Kilmarnock Supporters' Club and Fanny By Gaslight in Kilmarnock.
"Its going to be an awesome few days, "said Pete on the phone from Benidorm. "I've had so many requests to come back and play my home turf since I moved away it's incredible. And where better to start than the place it all began 15 years ago? I did my first ever Peat Loaf gig in Mauchline 15 years ago and have always had a huge following there. People from the town and surrounding villages have actually turned up in Benidorm to ask if and when I'd be returning to Scottish soil"
Well now we can tell'em Pete - the gigs are in Mauchline on January 29, with support from the Junkyard Dawgs and at Fanny's in West George Street, Kilmarnock on January 31.
Said Pete: "This is going to be so much fun, I have never played as Peat Loaf in Fanny's before but I started my whole singing career there many years ago with my first ever band, The DS Band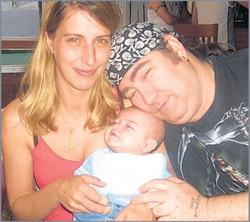 . "We had some crazy times back then and I know that this entire weekend is going to be a trip down memory lane - and how - for everyone.
You can keep up to date with all Peat Loaf news at peatloaf.com. I can tell you that the man's never been happier, as the picture with Tina his partner - he met her in Benidorm in 2006 - and his two year old son confirms.

   Proud Pa. A doting Pete Rossi with
 partner Tina and young son Connor